9 reasons to upgrade your Mailfence.com account today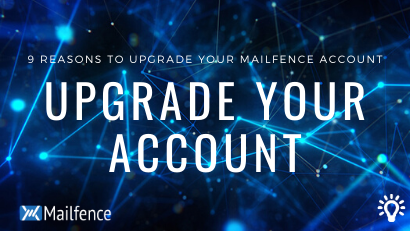 You might ask yourself, "why should I upgrade to a premium plan when my secure and private email Mailfence offers so much for free?" This is a Great question! You are right, our Free plan offers lots of storage and all encryption and digital signing functionalities. However, here are 9 reasons to upgrade today:
Reason #1: Use a custom domain name.
This is one of the most common reason people upgrade to a paid account. It's no mystery why. Whether you are using Mailfence with your business, your family or on your own, using a custom domain for your mail is always a great idea.
Your domain name is the first thing people see about your brand. In addition, by using your own domain for email, you are not stuck to one provider. At any given moment, you can migrate your domain to another provider, without having to inform all your contacts that you have a new address. Find out more about how to create an email address with a custom domain here.
Reason #2: Upgrading costs only 2.5 EUR per month.
At just 2.5 EUR per month for the Entry subscription, Mailfence.com is an incredible value. Consider it this way: for less than the cost of a cappuccino from Starbucks, you'll gain access to all the advantages of our premium plans.
Reason #3: Get access to our 7/7 Premium Support.
Your upgraded account also gives you direct access to our Premium Support service team. It is their mission to make sure you are a satisfied customer who stays with us for many years.
Reason #4: Mailfence is one of the most secure and private emails.
We have been featured in numerous sites and blogs as one of the most secure and private emails solutions of the internet. Check out the online reviews for Mailfence in case you want to hear it from third party sources.
Reason #5: Get access to standard protocols.
Our Entry and Pro plans give you access to IMAP4, POP3 and ActiveSync protocols. With these protocols you will be able to use your Mailfence account in local email clients like Thunderbird or Outlook. You will also be able to configure your account on your Android or Iphone smartphone or tablet.
Reason #6: Do more with your mailbox.
The Entry and Pro plans offer aliases, that allow you to create and manage different email addresses corresponding to your Mailfence account. You can also utilize message filters, sender address/domain white and blacklisting, and automatic forwarding to get more control and better organize all inbound messages for your mailbox.
Reason #7: We support the fight for electronic freedom and privacy.
The fight for email privacy and electronic freedom cannot be won alone but only by building a global movement of citizens, technology providers and NGO's that work together. That is why we donate at least 15% of our specific "Pro" plan annual revenues to support the Electronic Frontier Foundation (EFF) and the European Digital Rights Foundation (EDRi). These organisations are among the leading nonprofit organization defending civil liberties in the digital world.
Reason #8: Leverage the group capabilities of Mailfence Groups.
Mailfence allows you to share and organize your private and professional life through powerful productivity tools such as the Mailfence Calendar, Documents, Contacts and Chat. But did you know that with our paying plans you can create Mailfence Groups in order to share your data with family or colleagues in a secure way? Sounds interesting? Discover the group collaboration capabilities of Mailfence Groups.
Reason #9: Because the best time to reclaim your privacy is right now.
Our most successful customers got started right away. Take a bold step forward by upgrading your account right now, then start benefiting from all the advantages of our paying plans.
Now with all that said about the reasons to upgrade, we have just one question for you…
Are You Ready to do it Now?
If you are, the next step is easy. Simply login your account and select the subscription plan that suits you best.
Follow us on twitter/reddit and keep yourself posted at all times.
Mailfence team