Mailfence Documents: secure file sharing, storage and collaboration
Mailfence strives to make the internet a safer place. That's why we developed our encrypted email solution. But in our opinion just offering secure and private email is not sufficient. Otherwise our users would need to use insecure solutions to manage their appointments, create and store their files or chat online. That is why Mailfence is much more than secure email. Mailfence allows you to organize your life through powerful productivity tools such as Mailfence Calendar, Mailfence Documents, Mailfence Contacts, Mailfence Groups, Mailfence Chat and Mailfence Polls. Therefore in this post you will discover how to store, share and collaborate on files with Mailfence Documents, our secure file sharing solution.
What is Mailfence Documents?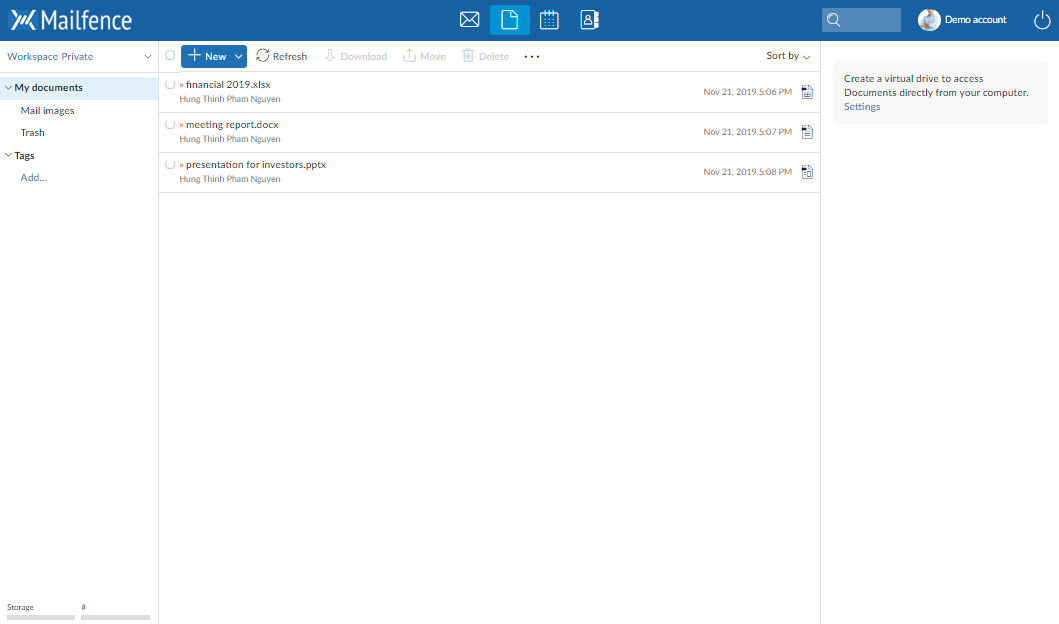 Mailfence Documents is a powerful secure file sharing application that allows you to store, share and collaborate on files.
With Mailfence Documents you can:
Manage and store your personal files online
Share your files with members of Mailfence Groups
Share files publicly (Public access)
Access y

our external online files spaces via the

Mailfence interface (such as Dropbox or Google Drive)
You can use Mailfence Documents with any browser but also through file manager of your device (via WebDAV).
What are the main features of Mailfence secure file storage application?
You can use Mailfence Documents as a personal file storage.  Main features are:
Add a document
Add a document using drag and drop
Create a new document (.txt, .docx, .xlsx, .pptx)
Add a comment
Edit a document online
Download a document
Rename a document
Duplicate a document
Move a document
Copy a document
Tag a document
Search in your documents based on different search criteria.  Search is both on meta data and full text
Send documents by email as an attachment
Send documents by email as a hyperlink
Convert documents to PDF format
To access the contextual menu of a document or a folder, click right on the document or folder as shown below: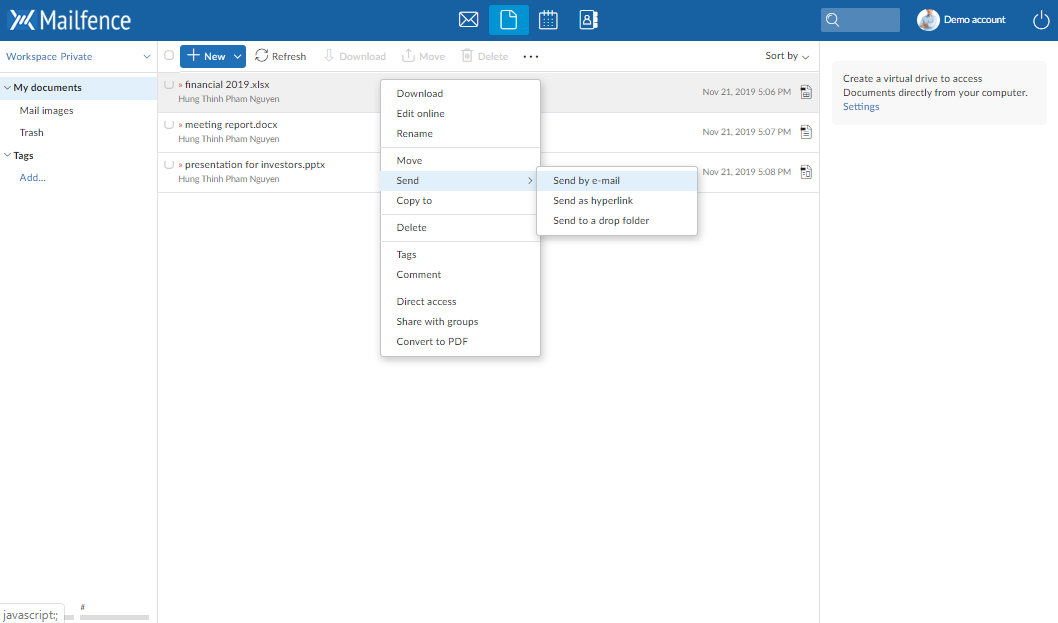 How can I use Mailfence secure file sharing application to collaborate with colleagues, friends and family?
You can use Mailfence Documents secure file sharing both to share files with other Mailfence users, but also with contacts that do not use Mailfence.  To collaborate with other Mailfence users you need to be member of the same Mailfence Group.  Learn here how to create Mailfence groups.
1.  How to access Mailfence group files
In order to access group files, use the pulldown menu under the logo at the left top of the screen and select the group.  The default value of the selector is 'Private' (which is your personal documents).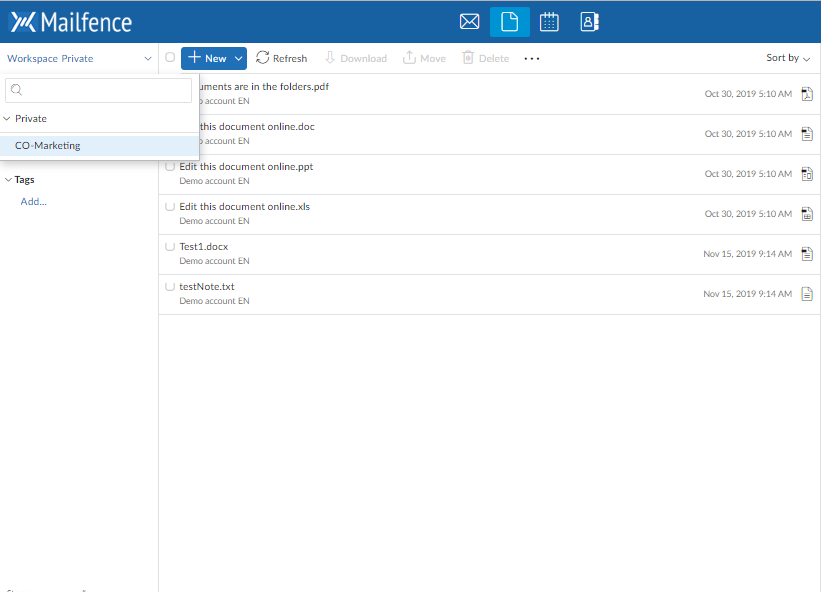 2.  How to manage access rights for group documents
To manage rights do a right click on the document or folder and choose 'Access rights'.
All group members may always view group folders and documents. In other words, they always have the Read right.
Group administrator and co-administrators may always add and delete content (i.e. folders and documents).
Group administrators and co-administrators can give the Add content and Add and delete content right to some or all members. Note: The Add content right also allows to rename folders.
Also, a document creator may always edit it.

Creators of documents can also give

additional

rights to some or all members.  The document

Edit

right allows to change its contents but also its meta-information (name, etc.)

 

Note: Each folder has its own access rights. Furthermore you can easily apply the same rights to the subfolders by clicking on Apply to subfolders. Please note that if you change the folder rights, they won't be applied to subfolders automatically. You'll have to click on Apply to subfolders if applicable.
3.  How to add data to group documents
Click on '+ New' in the top menu of the Documents tool.
Content can only be added in the current folder only if the group administrator has allowed you to.
You can also create a subfolder and upload documents within.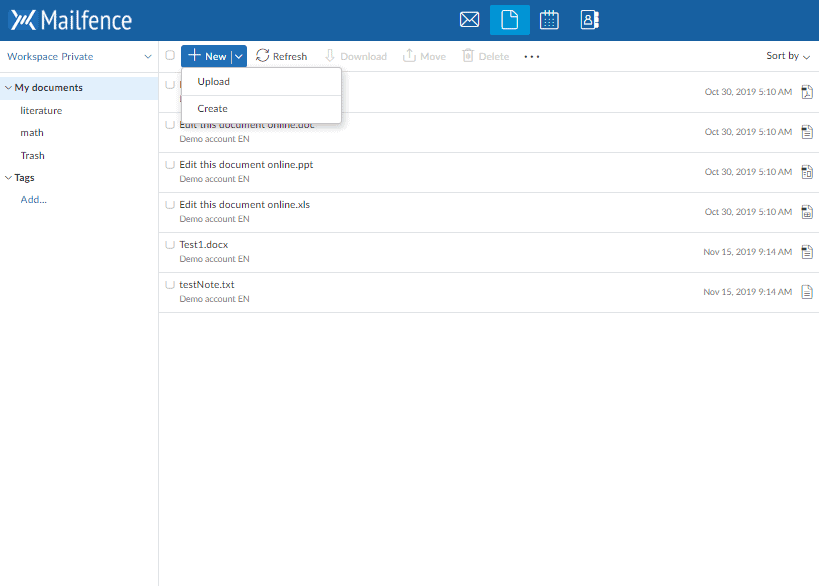 An alternative approach is to share private data (i.e. a document) with a group. The item will be visible in the group while remaining also in your private environment:
There is only one item: all edits made in your private environment will be visible in the group and conversely.  This avoids creating duplicates (which can end up with different contents).
To share an item with a group, you must have been granted the right to Add content in it.
Also, a single item may be shared with several groups.
Select a private item and choose Share with groups in its Actions. Click on the Share button. Then, choose a group and a destination folder within this group. If the item is a Document, create the destination folder if necessary.
If you don't want to share this item anymore, go to the same screen and click on the – icon (Remove) next to the group name.
4.  How to notify group members
When creating or editing a group document, you can send an email notification to all group members (except yourself) to let them know that a new document (or a new version of a document) is available. However, this standard notification can be personalized with your own comments.
Note: Only the document creator may send a notification.
To send a notification, select Notify by e-mail in the Actions menu of the document.
Online edition

With Mailfence Documents secure file sharing you don't need Office software (Microsoft Office, OpenOffice) installed on your computer anymore to be able to edit word processing, spreadsheets and presentations documents. In addition, Mailfence Documents integrates an online editor which offers the main features.
This editor is available if you have the right to edit a specific Document.
Select Edit online from the contextual menu of an "Office" Document. To save your changes, click on the "Save" button in the online editor.
Documents in a group can be edited by several people at the same time, each user editing a paragraph at a time. Edits made by others are displayed in real time. A chat is also available.
Note: The online editor is presently provided by a third-party application, which will access your edited Documents contents.  We therefore cannot guarantee the privacy of online edited documents.  We do plan to release a new online editing tool hosted on our own secure servers soon.
Virtual drive: access via Webdav

1.  What is a virtual drive
The virtual drive allows you to access your documents directly (without a Web browser): documents are in a special folder on your computer, protected with a login and a password.
This folder acts as a standard folder: you can add, delete and/or rename files and subfolders. You can also open a file from the folder or from an application on your computer. The virtual drive is also an easy way to back-up the files stored on your personal computer.
2.  How to create a virtual drive
The procedure depends on your operating system. For instance, our online help gives a detailed step-by-step guide for every operating system.
You will notice that the virtual drive consists of different folders:
A 'private' folder: it contains your private folders and documents
A folder for each group: each folder contains group folders and documents
Note: All documents must be stored in one of these folders: you may not place documents or create new folders on the top level.
Connect your external document storage with Mailfence Documents secure file sharing

Users can also connect their external document storage using WebDAV. Mailfence supports WebDAV (as a client) but also CIFS/SMB to map external documents storage.
Users can add, modify and delete documents and can organize them in folders which will remain synced with the remote document storage.
Please note that search is not available for external documents.
Follow us on twitter/reddit and keep yourself posted at all times.
– Mailfence Team