Introducing Mailfence Polls: simple and secure meeting scheduler
Mailfence strives to make the internet a safer place. That's why we developed our encrypted email solution. But in our opinion just offering secure and private email is not sufficient. Otherwise our users would need to use insecure solutions to manage their appointments, create and store their documents or chat online. Luckily Mailfence is much more than a secure email. Mailfence allows you to organize your life through powerful productivity tools such as Mailfence Calendar, Mailfence Documents, Mailfence Contacts and Mailfence Group Chat.  In this post you will discover how to schedule meetings & events with Mailfence Polls, a simple and secure meeting scheduler.
What is Mailfence Polls?
Mailfence Polls is a powerful online secure meeting scheduler that allows you to schedule and manage meetings & events.  Mailfence Polls helps you to find the best time for any event. Suggest a number of dates and times and invite participants to select their preferences. People don't even need an account to participate!
With Mailfence Polls you can:
Schedule business meetings

Organize family reunions
Plan a party with friends
You can consult your Mailfence Polls via our web interface.  Go to the Mailfence calendar and click on Polls in the left column.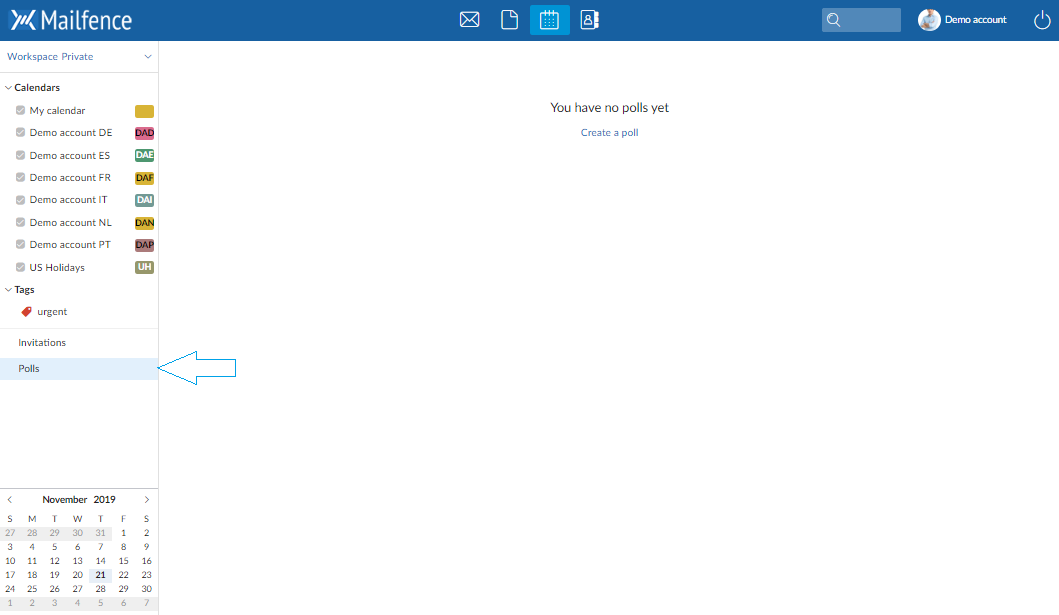 How to create and manage secure meeting polls?

Create a Poll
To create a Poll, make sure you have the participant added already in your contacts.
Go to your Calendar and click on Polls
Click on 'Create a poll' or 'New'
Write down the Subject and the Description of the Poll and click on Next.
Choose the participants and click on Next (create up to 30 proposals while selecting the timezones)
Manage a Poll
Once a Poll has been created, you can
Modify the Subject and Description
Invite/remove more participants and modify the timeslots
Send a reminder
Conclude a poll by selecting a final date
Close the poll (you will not be able to re-open it)
Delete the poll
What are the advantages of Mailfence Polls secure meeting scheduler?
Mailfence Polls has many advantages compared to  traditional meeting scheduler tools such as Doodle:
Mailfence Polls is integrated in Mailfence Calendar. Hence you have a view of your availabilities and other participant's availabilities when choosing potential dates and times.
Once a date and time is chosen, the selected meeting appears automatically in your calendar and in the calendar of all the participants that use Mailfence.
Mailfence Polls is also integrated with Mailfence Contacts.  You, therefore, do not have to type in the email addresses of the participants of your poll. Just select them in your address books.
Mailfence Polls is a secure meeting scheduler.  It benefits of the high level of security and privacy of the entire Mailfence mail suite.
Follow us on twitter/reddit and keep yourself posted at all times.
– Mailfence Team