Introducing Mailfence Calendar: a secure online calendar to schedule, manage and track meetings & events
Mailfence strives to make the internet a safer place. That's why we developed our encrypted email solution. But in our opinion just offering secure and private email is not sufficient. Otherwise, our users would need to use insecure solutions to manage their appointments, create and store their documents or chat online. Luckily Mailfence is much more than a secure email. Mailfence allows you to organize your life through powerful productivity tools such as Mailfence Calendar, Mailfence Documents, Mailfence Contacts, Mailfence Groups, Mailfence Chat and Mailfence Polls. Therefore, in this post, you will discover how to schedule, manage, and track meetings & events with Mailfence secure calendar.
What is Mailfence Calendar?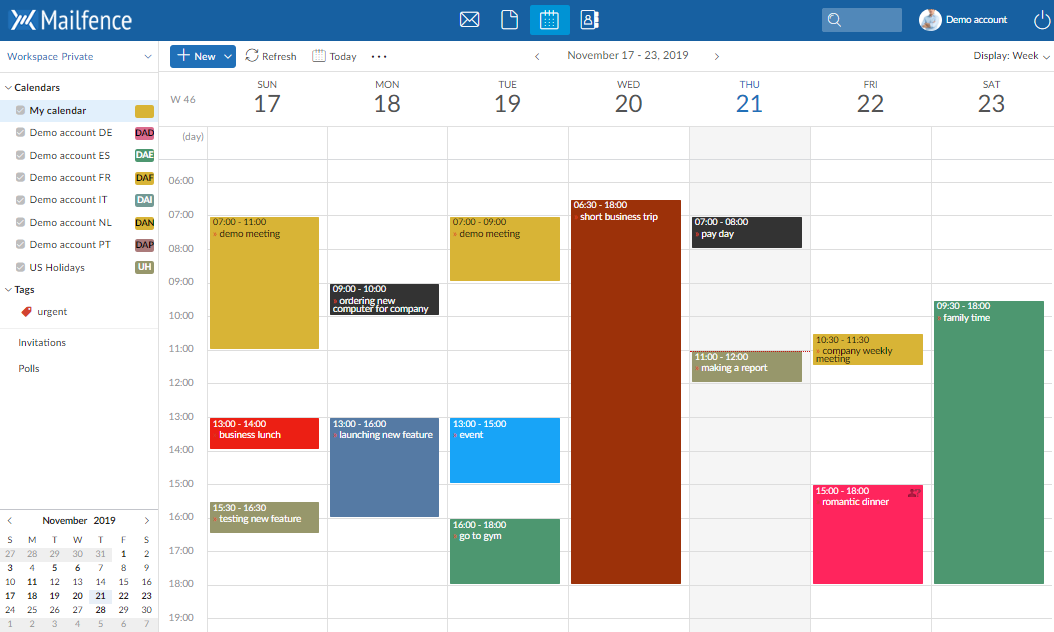 Mailfence Calendar is a powerful online calendar application that allows you to schedule, manage, and track your meetings & events.
With Mailfence Calendar you can:
Manage your personal calendar
Share your calendar with members of Mailfence Groups
Share your calendar publicly (Public access)
Access other calendars: calendars of Mailfence Groups members, group calendars or external calendar

s (from other providers)
You can consult your Mailfence Calendar via our web interface but also via dedicated calendar applications on desktops and smartphones.
What are the main features of Mailfence secure online calendar?
You can use Mailfence Calendar as a personal calendar.  Main features are:
Add an event

Add an "all day" event

View event details

Duplicate an event

Repeat an event (with or without periodicity)

Set an event colour

Manage availability

Create private events

Create reminders via SMS, browser (XMPP) popup or email

Tag events

Add event comments

Subscribe to your calendar via RSS

Search in your calendar based on different search criteria

Create and manage Polls
The Settings allow you to change your time zone, modify the default event duration and even change the calendar resolution.  For instance, a detailed description of each of these features can be found in our online help.
Note:  Mailfence Calendar offers only one personal calendar.  However, there is an easy workaround in case you want to manage different personal calendars.  Use group calendars as additional calendars for personal use.  More info about group calendars below.
How can I use Mailfence secure online calendar to collaborate with colleagues, friends and family?
You can use Mailfence Calendar both to schedule meetings with other Mailfence users, but also with contacts that do not use Mailfence. Moreover,  to collaborate with other Mailfence users you need to be member of the same Mailfence Group.  Learn here how to create Mailfence groups.
1.  Create and manage meetings
An event is turned into a meeting when you invite participants. These participants are selected among group members and contacts (only contacts with an e-mail address can be selected).  Main features are:
Create a meeting
Pending meetings
Accept or decline a meeting
Invitations follow-up (re-sending meeting invitations)
Edit a meeting
Cancel a meeting
Remove a participant
Repeated meetings
Check our Knowledge base article for a quick guide on how to create meetings.
2.  Share your personal calendar with other Mailfence users
 Following default rights are applicable:
View events: all group members may always view the busy timeslots in your calendar. If you wish to hide the busy timeslot itself, create a private event.
View event details: this right is reserved by default to yourself.
Edit your calendar (add, edit and delete events): this right is reserved by default to yourself.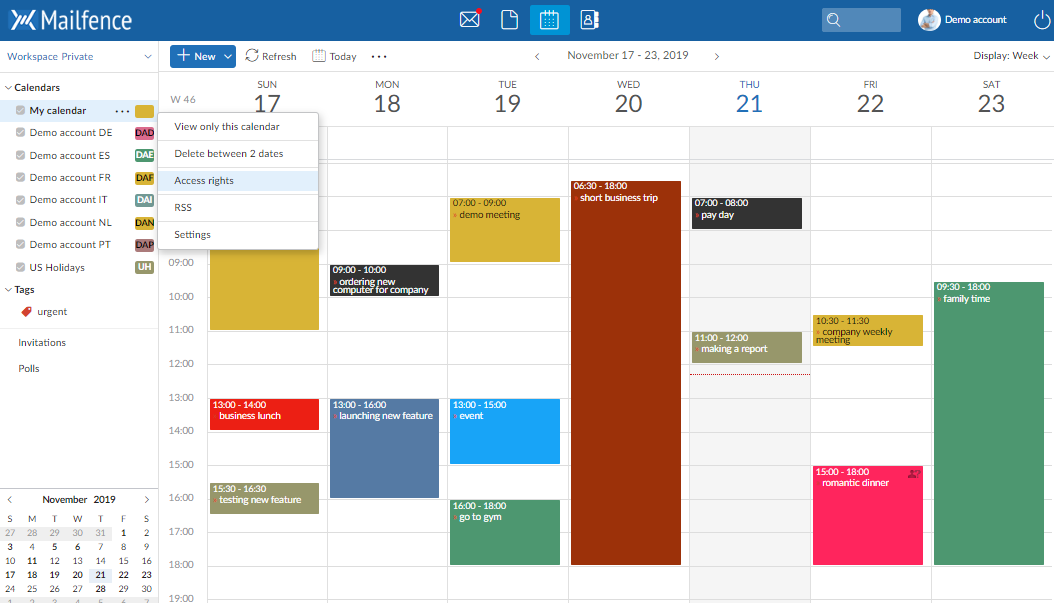 2.  Edit default rights
Click on 'My calendar' in the left column of the screen
Choose 'Access rights'
If you wish to allow a member to view your event details, grant him the Read right.
If you wish to allow a member to edit your calendar (i.e. add, delete and edit any event), grant him the Read and Write right. You can grant rights to individual users or to all members of a group.
Check out the new interface for your private calendar here
3.  Publish your calendar / Share it with any other person
It is also possible to share your Mailfence Calendar with people that do not have a Mailfence account.
Public access allows you to publish data on the Web: anybody will be able to view your calendar without having a Mailfence account and without any authentication.  You just have to activate the public access and communicate the URL by e-mail, on your Web site, etc.
Not only is it possible to publish your private calendar but you can also publish a group calendar.
How do I publish a calendar?
Click on 'My calendar'.  Then choose Public access. Choose one of the publishing modes:
View busy/free: only the busy timeslots are displayed, without any indication. In addition, the events that you have set as private are not displayed.
View details: events subjects and descriptions are published as well. Use this mode with caution.
In the public access window, you will find 3 types of addresses, allowing you to:

View your calendar in a light version of Mailfence
Publish your calendar on a website
View your calendar in third-party software
At any time, you can stop publishing your calendar by choosing Disabled.
4.  Access other calendars in your Mailfence Calendar
For rapid access to other calendars, you can configure them in order to obtain a shortcut in the left column of the screen.  This can be done for group calendars and group member calendars but also for external calendars that are accessible online via URL.
1.  How to access 'Other Calendars' configuration?
Click on 'Calendars' in the left column of the screen
Choose 'Edit'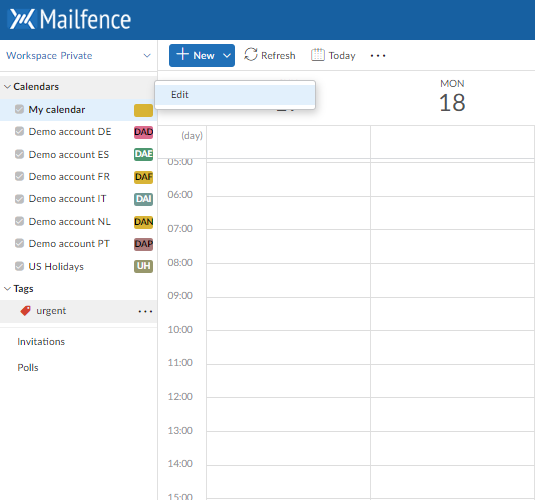 2.  Add other Mailfence calendars
Add other member calendars or group calendars by clicking on 'Add a calendar'.  Choose the group, then select the calendar you want to access.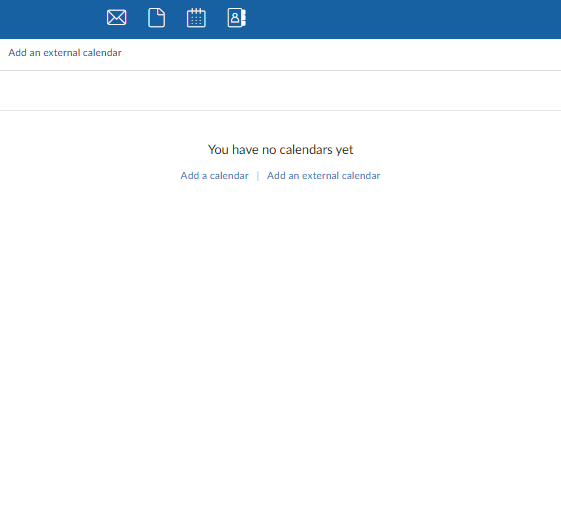 3.  Add 'External calendars'
Add external calendars by clicking on 'Add an external calendar'
Then fill in the name and url (in .ics format)
These external calendars will be added as additional layers in the Mailfence Calendar. In addition, please note that external calendars are always read-only and cannot be modified.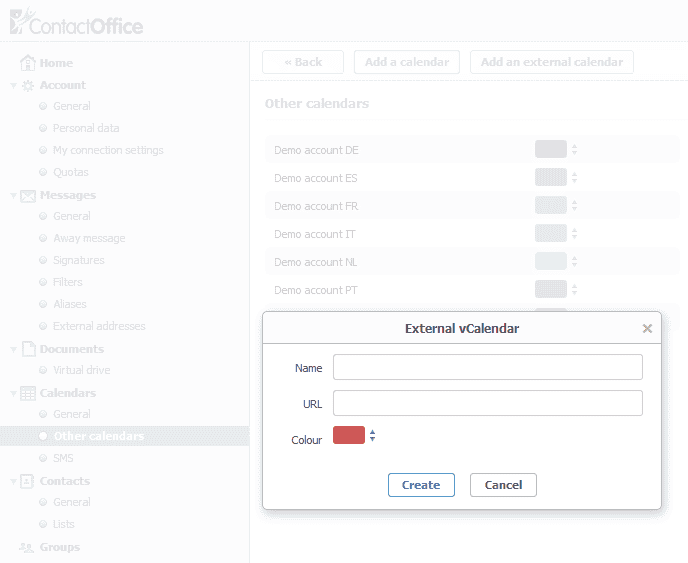 Please note that search is not available for external calendars.
How can I access my Mailfence secure online calendar on other devices?
Your mailfence calendar can also be accessed and managed via specific Calendar Apps either via mobile synchronization (Activesync Exchange) or via CalDAV.
Access via CalDAV
Calendars can be accessed with read and write rights from CalDAV compliant third-party-software such as Lightning, Apple Calendar (macOS), or iPhone/iPad.
You will find detailed information about features, limitations, support for meetings, and configuration in our online help.
If both your subscription and your device (computer, smartphone, tablet) can handle ActiveSync synchronization, we advise using the latter. For example, set-up is easier, there is only one set-up for all tools (email, contacts, and calendar data) and synchronization is more robust. However, unlike CalDAV, it does not handle group members and group data.
Access via Activesync Exchange
You can also synchronize your smartphone apps (iPhone, iPad, Android, BlackBerry, etc.) with your Mailfence Messages, Calendars and Contacts.
You can even synchronize your Mailfence Calendar with several devices meanwhile Mailfence being the synchronization server.
Should a problem occur during the synchronization process (lost connection, power failure, etc.), the next synchronization will assume that up-to-date data are on Mailfence. This synchronization keeps the data already present in your smartphone.
You will find detailed information about features and configuration in our online help.
Access via RSS
RSS will notify you of new items on a Website, RSS is used in a RSS reader. Then you subscribe to RSS feeds and the RSS reader will refresh them periodically.
Mailfence offers several feeds, all protected by your usual login and password.
Each (private or group) calendar has 4 RSS feeds:
Today
This week
This month
30 days (from today)
Where to find feeds?  Click on 'My calendar' and then select RSS.
Import and export calendar data
Import
Before importing, select a private or group calendar. Select Import in the Actions of the current calendar (click on the '…' of the calendar top menu). 2 import modes are available:
Import from a file: the file must be in the vCal/iCal format
Import from Google Calendar: this will import all events
In both cases, make sure that your Mailfence calendar can accept the number of events to import.
Export
Select a private or group calendar prior to exporting.
You can export one, several or all the events from a calendar in vCal/iCal format to reimport them in software compatible with this format:
Export only one event: do a 'right click' on the event and choose 'export'
Export several events: select a view (day, week, or month) and select Export in calendar Actions. Select Events on this page.
Export the entire private calendar: click on Export in calendar Actions. Select All events of this calendar.
Export in PDF

downloads 

all events from the current view.
Follow us on twitter/reddit and keep yourself posted at all times.
– Mailfence Team