Mailfence Contacts: a secure contact management software
Mailfence strives to make the internet a safer place. That's why we developed our encrypted email solution. But in our opinion just offering secure and private email is not sufficient. Otherwise our users would need to use insecure solutions to manage their appointments, create and store their files or chat online. That is why Mailfence is much more than secure email. Mailfence allows you to organize your life through powerful productivity tools such as Mailfence Calendar, Mailfence Documents, Mailfence Contacts, Mailfence Groups, Mailfence Chat and Mailfence Polls. Furthermore in this post you will discover how to backup or share your contacts with Mailfence Contacts, our private and secure contact management software.
What is Mailfence Contacts?
Mailfence Contacts is a powerful private and secure contact management software that allows you to backup, store and share contacts.
With Mailfence Contacts you can:
Manage and store your personal contacts.
Share your contacts with members of Mailfence Groups.
Access and manage your online contacts on your smartphone, tablet or computer via protocols such as CardDAV and Exchange ActiveSync.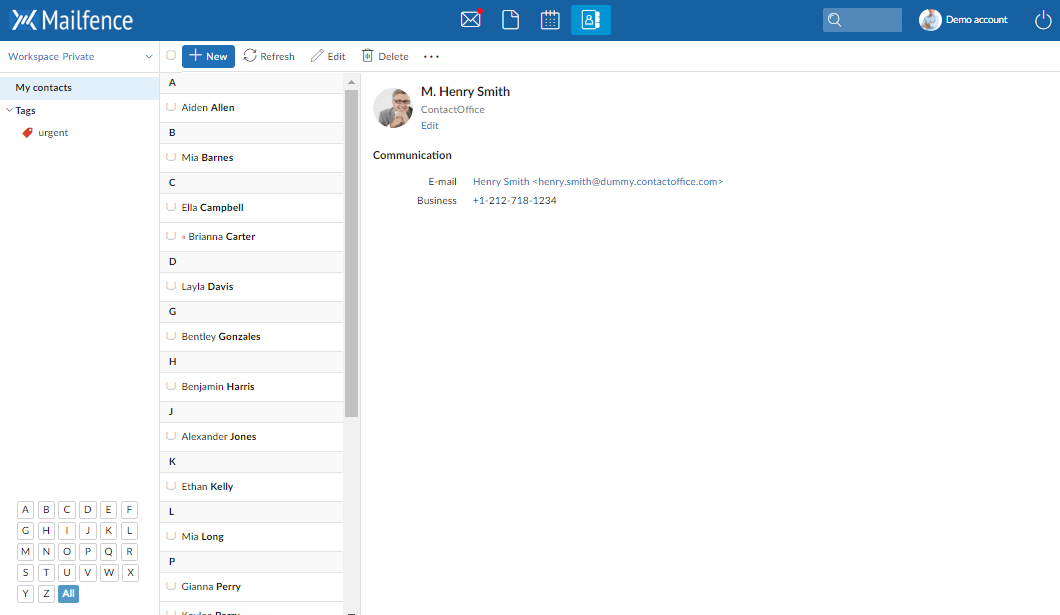 You can use Mailfence Contacts with any browser but also through the contacts app of your device.
What are the main features of Mailfence contact management software?
You can use Mailfence Contacts as a personal contact management software. Main features are:
Create a new contact
Add a comment on a contact
Tag a contact
Search in your contacts based on the content of the contact or the tag
Attach a document to a contact
Check the data of the contact by sending a validation email to the contact
Send a mail, SMS or fax by clicking on the respective telephone number or email address
Import contacts from following formats: MS Outlook, CSV (Comma-Separated Values), vCard, LDIF, Google contacts
Export contacts to following formats: vCard (2.1), vCard (3.0),vCard(MS Outlook), CSV (Comma-Separated Values), PDF
Make a list of contacts to send messages to lists of contacts
How can I use Mailfence secure contact management software to collaborate with colleagues, friends and family?
You can use Mailfence Contacts secure contact management software to share contacts with other Mailfence users. In addition, to collaborate with other Mailfence users you need to be a member of the same Mailfence Group. Learn here how to create Mailfence groups.
1. How to access Mailfence group contacts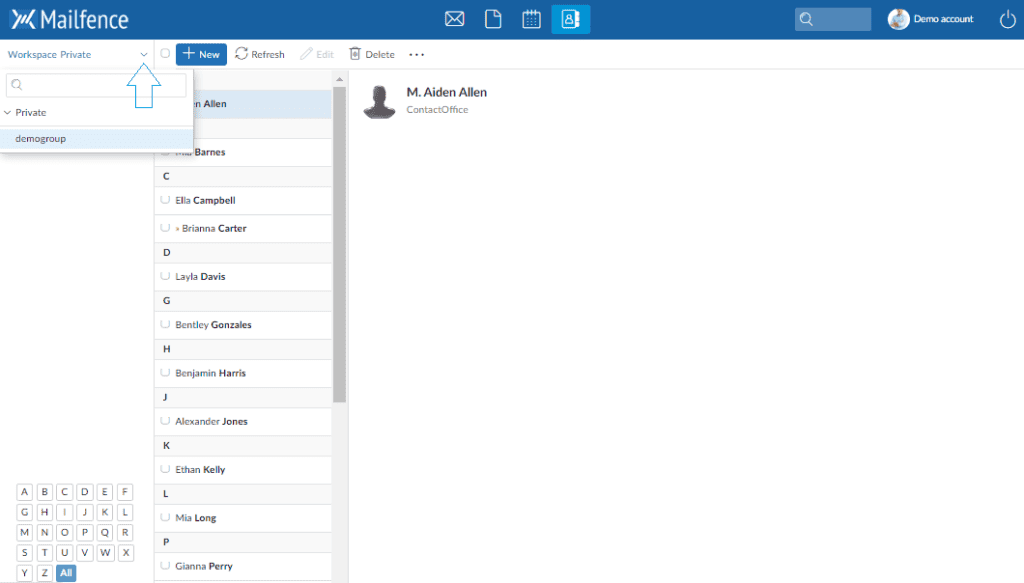 In order to access group contacts, use the pulldown menu under the logo at the left top of the screen and select the group. The default value of the selector is 'Private' (which is your personal contacts).
2. How to manage access rights for group contacts
To manage rights do a right-click on the contacts and choose 'Access rights'.
All group members may always view group contacts. In other words, they always have the Read right.
A contact creator may always edit it.

Group administrators and co-administrators may always add and delete content (i.e.contacts).

Group administrators and co-administrators can give the Add content and Add and delete content right to some or all members.
Creators of contact can give additional rights to some or all members.
The contact Edit right allows you to update the contact.
Note: In case you give rights to all the members of a group and someone joins the group, later on, this person will automatically be granted the same access rights. If you wish to avoid that, grant rights to the individual members that are now in the group.
Likewise, if a current member leaves the group, later on, he or she will lose the granted access rights.
You can remove the access rights you have granted at any time.
3. How to add contacts in the group contacts
Click on '+ New' in the top menu of the Contacts tool.
New contacts can only be added if the group administrator has allowed you to.
An alternative approach to adding a contact with '+New' is to share private data (i.e. a private contact) with a group. The item will be visible in the group while remaining also in your private environment:
There is only one item: all edits made in your private environment will be visible in the group and conversely. This avoids creating duplicates (which can end up with different data).
To share an item with a group, you must have been granted the right to Add content in it.
A single item may be shared with several groups.
Select a private item and choose Share with groups in its Actions. Click on the Share button. Then, choose a group.
If you don't want to share this item anymore, go to the same screen and click on the – icon (Remove) next to the group name.
Synchronization with your mobile device

You can synchronize your smartphone (iPhone, iPad, Android, BlackBerry, etc.) contacts with your Mailfence Contacts through Exchange ActiveSync protocol (which also synchronizes emails and calendar events). In addition, you can synchronize several devices with your mailfence account, Mailfence being the synchronization server.
Should a problem occur during the synchronize process (lost connection, power failure, etc.), the next synchronization will assume that up-to-date data are on Mailfence. Therefore this synchronization keeps the data already present in your smartphone.
For setup and exact settings, please check our online help.
Access via CardDAV
CardDAV is a protocol that allows you to synchronize your Mailfence contacts with different contact management softwares such as:
CardDAV is an alternative for the above-mentioned Exchange ActiveSync mobile sync but does not work with Microsoft Outlook. If both your subscription and your device (computer, smartphone, tablet) can handle Exchange ActiveSync synchronization, we advise you to use it. Set-up is easier, there is only one set-up for all tools (email, contacts and calendar) and synchronization is more robust. To access a group address book however or if your subscription or device does not support ActiveSync, use CardDAV.
For setup and exact settings, please check our online help.
Follow us on twitter/reddit and keep yourself posted at all times.
– Mailfence Team