List of Mailfence Secure and Private Email Reviews (Updated on 28/2020)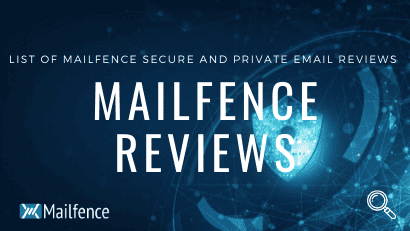 Since the initial launch in 2013, Mailfence captured a lot of interest from media and different security/privacy professionals. Moreover, it is considered as one of the best secure and private email services around. There are many aspects that make Mailfence unique both in terms of end-to-end encryption/digital signatures and other collaborative functions.
In order to make it easier to form your opinion about our service, this blog post includes a list of reviews from diverse sources. Consequently, we want to thank all the independent reviewers who gave their time to write about us.
Mailfence reviews
The ProPrivacy's Ray Walsh mentions in his article that "Mailfence is a solid and easy-to-use email provider that is ideal for beginners. Encryption is solid, and because it is browser-based there is no need to download any software." The full article can be found here.
Restore privacy's Sven Taylor wrote, "It has all the features and options that you are likely to need, whether you are looking to manage the mail for an entire organization, or just want great service for personal use". The full review can be found here.
In the VpnPick blog post about us, they write that "The two-factor authentication, support for third-party email clients, open-source standards and its unique Keystore, are some of the features that place Mailfence ahead other secure email services." In addition, the full article can be found here.
VPNroom wrote "Opening a Mailfence account is extremely easy. More importantly, you can start the process for free to get a taste of how it works". Full article can be found here.
"Webmail interface is stunning, responsive, and easy to use," wrote Anonymster in a long article about us.  Find the article here.
Techozens answered with "Absolutely, YES." on whether or not they recommend us. In addition, they back their opinion by saying "Mailfence is a very valuable service for any business or influencer" The full review can be found here.
VPNpro's Julie Cole wrote, "Mailfence is safe and provides you, me and everyone else with the requisite protection against hacking, tracking, privacy infringement, and identity theft". The full review can be found here.
FastestVPN wrote about us in their blog post. They said "Mailfence does not lock users into their own "digital island". Moreover, it allows its users to communicate securely with anyone, whether these users are Mailfence users or use another email service". You can read the full review here.
Open reviews/feedback
In an open guide about secure emails, maintained by OpenTechFund appreciates our work by saying: "The project came into existence after Snowden revelations and holds a strong online privacy-oriented philosophy." You can find the Github page here.
On an interesting thread by reddit user on r/linux about alternatives of Facebook & Google we take place as an alternative to Google. Here is the full list.
"Support is also excellent." are the words used at CrowdReviews to describe our services by a reviewer who used and appreciate our efforts to provide the best in the market. Read about it here.
Another reviewer describes us as: "Fantastic!" in the famous review site Capterra. Read what our other clients said here.
In a recent interview with PreciseSecurity our CEO Patrick De Schutter talked about future threats to online security. Moreover, he also talked about future plans of Mailfence which include the launch of our mobile app and open-sourcing our code. Read about the interview in this article.
Mailfence collective reviews with other services
Lifewire writes in a review of five encrypted email providers: "Mailfence is a security-centric email provider that features end-to-end encryption to ensure that nobody can read your messages but you and the recipient.". You can find it here.
According to Life hacker "Mailfence is a solid choice with office apps, it's more email- and calendar-focused compared to the comprehensive app suite of Kolab Now."  The article where they compare our service with Kolab now can be found here.
In a long list article where Maketecheasier compared 11 best secure email providers, the writer enjoyed our sense of humor. Find out what was so funny here.
The author in an article at PrivacyAustralia described Mailfence as "One of the most esteemed secure email providers on the market today. ". The full article can be found here.
Change log says "Mailfence does seem to have some pretty good policies in place." For instance, we take place in a list of 4 privacy respecting email services as 2nd. In addition, the review can be found here.
International reviews
Video reviews
Aug 2019 by Tom Spark Reviews
Apr 2019 by Igor Griffiths
February 2018 by Paf LeGeek (in French)
August 2017 by The Hated One
Interview
A co-founder of Mailfence spoke to Vpnmentor about international law, personal privacy and everything in between. You can find out more here.
A co-founder of Mailfence spoke to SafetyDetective about Mailfence, online security/privacy threats and developments in cybersecurity in the coming years. You can find out more here.
Interested in reviewing Mailfence?
Please do not hesitate to contact us if you want to review Mailfence, we will provide you with a demo account!
Want to join us?
Follow us on twitter/reddit and keep yourself posted at all times.
– Mailfence team