Time to take our ePrivacy back
We are already living in the future. Humans attacking robots, fridges leaking your passwords, mattresses that can tell you if your partner is cheating on you.  There are even dolls that listen to your children and "social networks" that experiment with your moods. How should the "real future" look like? That is what the ePrivacy debate that we are having right now is all about.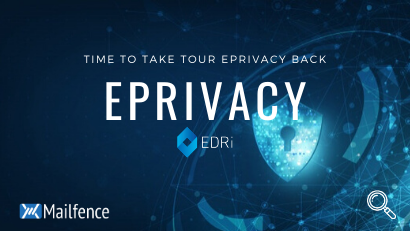 GDPR is not sufficient
After the adoption of the General Data Protection Regulation (GDPR), the EU will benefit from a (semi) harmonised set of rules to regulate the usage of personal data. But what about your right to privacy and the confidentiality of your communications? Although the GDPR covers a wide range of uses of your personal data, another piece of legislation, called ePrivacy, regulates specific aspects of electronic communications.
What will ePrivacy bring?
The updated ePrivacy Regulation will deal with new aspects such as the Internet of Things, communication via messengers like WhatsApp, Signal, Facebook Messenger etc, tracking walls (the current status being "accept advertising, malware and viruses or you won't be able to read the news") and who can read your emails or access your devices. Should your email provider read your email to show personalised advertising? What about WhatsApp that uses your contact list to suggest new friends on Facebook? Should newspapers know what you read and which other websites you visit? That is the debate we are having now.
Unfortunately, the discussion has been dominated by the tracking and advertising industry based on a series of myths and on misleading data that has created a feeling that the digital media industry will be killed. However, as the Eurobarometer survey has shown "72% of European citizens stated that it is very important that the confidentiality of their e-mails and online instant messaging is guaranteed". By not having strong privacy laws we are being controlled by a duopoly of advertisers  who will benefit from the millions of Europeans who can access the internet. On the other hand, by ensuring that ePrivacy goes beyond what the current legislation does we can set higher standards for the EU, and indirectly for the rest of the world and take our ePrivacy back.
Want to read more about ePrivacy?
https://edri.org/eu-member-states-undermine-e-privacy-proposal/
Mailfence and the fight for online privacy
Mailfence clearly helps users to reclaim their email privacy with its secure email solution, but email is just one part of the puzzle.  That's why we support ePrivacy legislation and support organisations like EDRI and EFF.  In a number of guestpost we will give a platform to our partners because we believe that secure applications are not sufficient without good regulation for digital rights and online privacy.
Follow us on twitter/reddit and keep yourself posted at all times.
– Mailfence Team