Secure document sharing in the cloud with "Drop Folders"
Mailfence is much more than a private and secure email solution. With Mailfence you have access to an entire suite of tools such as File Management, Calendars, Contacts,…
We view it as our mission to help you reclaim your online privacy. Online privacy is not only an individual concept. One might want to share data with colleagues, family or partners in a very private way. That's why we have developed our Groups.
What are Groups
Mailfence groups are secure shared work spaces accessible only to selected Mailfence users. The access to such a group is on an invitation-only basis. The shared work space is present in the following Mailfence tools: Calendar, Documents and Addressbook.
Once users are members of a group, they can only access the data that is shared by the administrator of the group. They cannot delete, add or modify data. However, the Administrator of the group can also assign access rights per tool and per folder to selected members of the group in order to allow them to add, modify or delete group data. He/she can also create co-administrators.
Check out our Knowledge base article about Groups
Groups are ideal for secure document sharing in the cloud
Mailfence groups are ideal for secure document sharing in the cloud because the documents, calendars or contacts do not leave the servers via email or non-secure links.  They remain stored on our server and do not need to be sent as attachment to a mail or as downloadable hyperlink. Users are notified by email whenever new documents are added in a shared work space. They can view the data with their secure https connection. Administrators can at all time edit, comment or tag the documents and define specific access rights per document.
Secure document sharing in the cloud without sending an email
What happens when you want to share a document with only one other user? Most users send it as attachment of a mail or with a downloadable hyperlink service such as wetransfer. This can be very dangerous. Mailfence offers you two secure options:
You can create a new group that would only contain this other user and yourself. However this might be an overkill if you only need to share this one document with this user.
You can use the Mailfence "Drop Folder" function.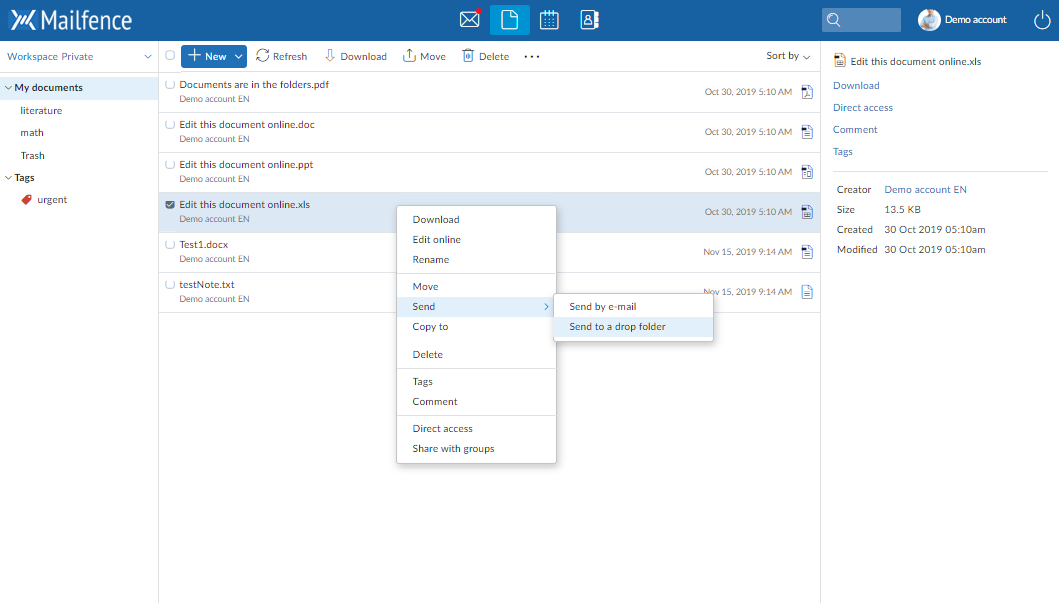 This function allows you to send/deposit the document in the account of the other user, without it ever leaving our servers. And without infringing on the privacy of the other users. It is a bit like an Inbox for documents.
To use the Drop Folder function please follow the steps mentioned in our Knowledge-base article.
Follow us on twitter/reddit and keep yourself posted at all times.
– Mailfence Team
Patrick is the co-founder of Mailfence. He's been a serial entrepreneur and startup investor since 1994 and launched several pioneering internet companies such as Allmansland, IP Netvertising or Express.be. He is a strong believer and advocate of encryption and privacy. You can follow @pdeschutter on Twitter and LinkedIn.