Plus addressing to track spammers
Plus addressing (or sub-addressing) allow you to use different versions of your email address. A great thing is to use plus addressing to track spammers. Use it whenever you want to track whether your email address has been transmitted to third parties.
What is plus addressing or sub-addressing?
With plus addressing or sub-addressing you have access to an unlimited amount of email addresses. You just need to add a "+" sign in your email name, followed by a new word or tag. The great thing is that you do not need to do anything. They work right away. Here are some examples:
All emails sent to name+extraword@mailfence.com will go to name@mailfence.com
john+octobre2016@mailfence.com will go to john@mailfence.com
john+sales+mailing@mailfence.com will go to john@mailfence.com
etc….
Plus addressing to track spammers
If you are afraid that your email has been transmitted to a third party you can use plus addressing to track whenever you are required to enter your email on a site.
When registering to a specific website register with following email: myname+namesite@mailfence.com. If ever you get a spam on this address you'll know that your email was transmitted.

You can combine the plus addressing with Filters in order to automatically transfer the mails your receive on your plus address to a specific folder. Here is how you setup an email filter with plus addressing:
First go to the 'Settings'.
There choose 'Filters' in the left Column
Click on 'New'.
There you can configure that all mails sent to john+mailing@mailfence.com will be moved to folder 'Admin Support' as is depicted in the screencapture below.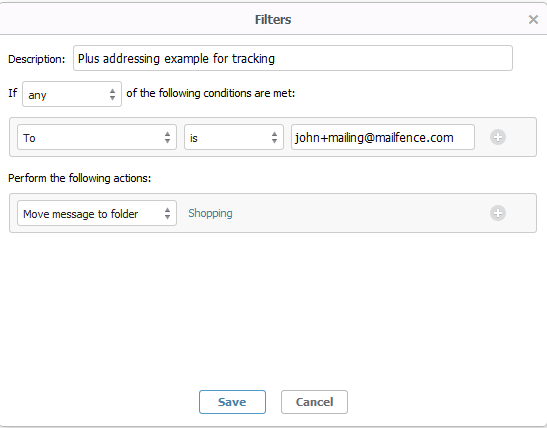 Potential problems when using Plus Addressing
The form validation of certain web sites sometimes rejects special characters such as "+" in an email address. This is dangerous since the answer to your mail might be sent to the wrong person. A mail sent from john+mailing@mailfence.com might result in mails being sent to johnmailing@mailfence.com
Please be notified, that we do not support other special characters (e.g., '.', '-', …) in place of '+' sign.
Also, you can report spam messages to: Knujon, Spamchop, consumer.ftc.gov
Mailfence – a secure and private email service.
Follow us on twitter/reddit and keep yourself posted at all times.
– Mailfence Team
Patrick is the co-founder of Mailfence. He's been a serial entrepreneur and startup investor since 1994 and launched several pioneering internet companies such as Allmansland, IP Netvertising or Express.be. He is a strong believer and advocate of encryption and privacy. You can follow @pdeschutter on Twitter and LinkedIn.