How to create an email address with your own domain
Did you know that instead of having a @mailfence.com e-mail address, you can have e-mail address(es) with your own e-mail domain name hosted on the Mailfence secure and private platform?
How to create an e-mail address with your own domain name?
1. Own a domain name. We do not commercialize domain names: if you don't have one, you can for example acquire one with the following European companies: https://www.ovh.com, https://www.1and1.com or https://www.gandi.net.
2. Own a paying subscription on Mailfence.com.
Implications
– All e-mails sent to any address of your domain name will be directed to our servers (though you still can forward some of them automatically afterwards).
– If you already have an e-mail server for your domain name, be sure to follow the procedure correctly to avoid the loss of messages during the transition.
Procedure
Please make sure that your account's reset/notification address is not based on a domain that you are about to add on our platform. If yes, then do not forget to change your reset/notification address with some other service (e.g., notyourdomain.com) – as 'yourdomain.com' DNS MX records will be pointed to us and you will no longer be able to recover your account in case of compromises. You can add a new address by going into your account Settings -> Account -> Personal data -> Edit -> Communication: +/- (click on '+' sign to add).
Go to your account Settings -> Messages -> E-mail domains.

Then click on 'Add an e-mail domain', write down your domain name in the prompt and click on 'Save'.
Perform the domain ownership verification check: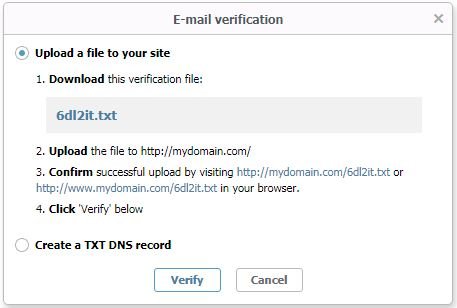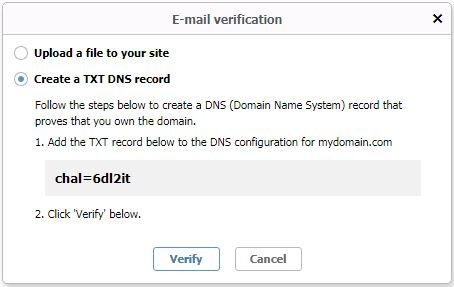 Click on 'Verify', to proceed.
At this point, you can set your domain based email address(es) as an alias to your Mailfence account, by going into your account Settings -> Messages -> Aliases -> New: Select your domain from the drop-down.
This is a compulsory step if you already use your domain for e-mails, otherwise incoming e-mails to your domain based e-mail address(es) will be lost.
Configure the respective MX entries in your domain DNS records:
mydomain.com MX preference = 10, mail exchanger = smtp1.mailfence.com.
mydomain.com MX preference = 10, mail exchanger = smtp2.mailfence.com.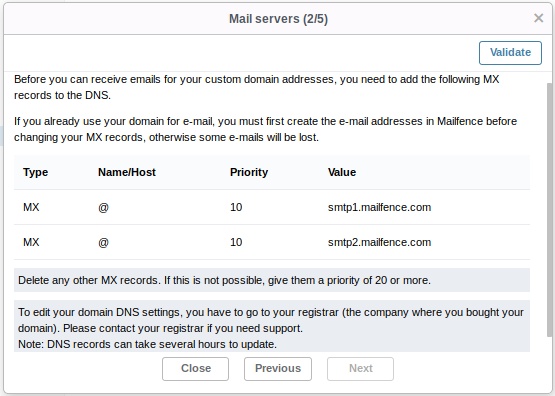 Important note

– the two entries are important to guarantee a good load balancing and fail over.
– make sure you enter the same preference value (e.g. 10) in both of the MX records.
– in some cases (depending on your domain DNS record manager), you will have to add the "." at the end of the MX records. Without them, the MX records will be faulty (smtp1.mailfence.com.mydomain.com).
Once you finish setting up all of the desired email addresses based on your domain and can send and receive emails, check this blogpost for SPF, DKIM and DMARC to protect your emails from spoofing.
Check out this Knowledge-base article to set up your domain based e-mail address as the primary address of your account. Additionally, you can set-up a catch-all address for your domain.
Got some questions? Feel free to contact support@mailfence.com.
Follow us on twitter/reddit and keep yourself posted at all times.
– Mailfence Team