Mailfence will be presenting at RightsCon Brussels – March 29-31, 2017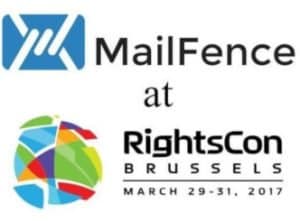 Mailfence will be presenting at RightsCon Brussels
We are extremely excited to be invited to demo our secure and private email at PrivacyCon Summit and take part in the vibrant discussion on online privacy rights, net neutrality and the future of Internet.  We will be presenting a tech-demo on Day 3 (Demo room, at 15:30), where we will demo Mailfence and show how Mailfence provides a unique secure and private email service.
It is a great opportunity for us to meet Mailfence users, privacy enthusiasts and other interested groups.  We can be reached on all of the Summit days via twitter.  We are very much looking forward to exchange with you and take part in the debates!
Under Mailfence founding ideology "Privacy is a right, not a feature" – we are happy to participate in initiatives that contribute in making the Internet a more secure and an open place for users from around the globe.
The RightsCon Brussels Conference
The
Access organization
 is a well known international non-profit advocacy group dedicated to an open and free Internet. It organises the annual
RightsCon
conference, a global event that features participants from civil society, tech companies, and users at risk.
RightsCon Summit is the world's leading event on the future of the internet to shape a global conversation about how to keep the internet open, free, and secure. As the sixth installment of the Summit, RightsCon Brussels will bring together 1,200+ attendees from 95 countries with 500+ organizations, tech companies, universities, startups, and governments represented.  The goal is to gather the global digital rights community in the heart of European policy-making to host our most impactful RightsCon yet.

– https://www.rightscon.org/
Follow us on twitter/reddit and keep yourself posted at all times.
– Mailfence Team
Patrick is the co-founder of Mailfence. He's been a serial entrepreneur and startup investor since 1994 and launched several pioneering internet companies such as Allmansland, IP Netvertising or Express.be. He is a strong believer and advocate of encryption and privacy. You can follow @pdeschutter on Twitter and LinkedIn.