Sicherheit, Vertraulichkeit und Anonymität von Nutzerdaten
The security, confidentiality and anonymity of user data are based on three interlinked concepts that overlap each other. In this article we will try to explain how Mailfence covers each of these concepts.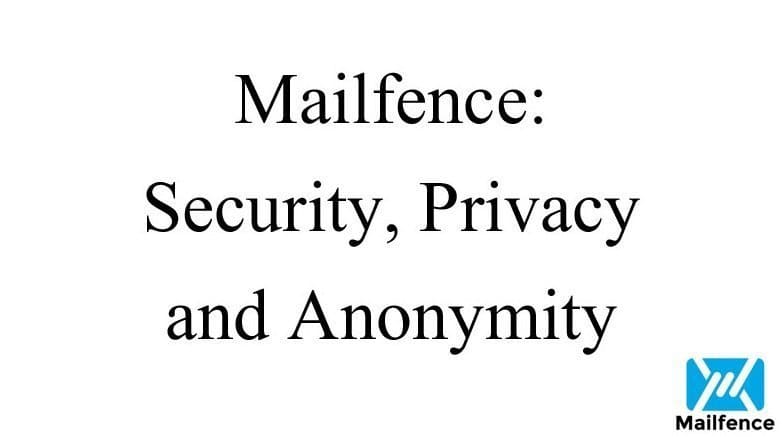 Security, confidentiality and anonymity in general
General definitions for the three domains could be:
Confidentiality

: To be able to fully control and manage his personal information and activities.

In other words, others can see who you are but not what you do.

Anonymity

: To be able to become completely unrecognizable with its data and activities.

In short: others can see what you do, but not who you are ..

Security

: protection against threats, risks and dangers.

You are safe no matter who you are or what you do.
Security, confidentiality and anonymity of user data at Mailfence?
The following Mind Map shows a general visualization. Then we explain in detail how Mailfence covers the areas of data security, confidentiality and anonymity.

Confidentiality of user data at Mailfence
Based on our design philosophy , the confidentiality of user data is of paramount importance to us. There are a variety of ways in which we do everything possible to protect the confidentiality of the user's data.
Minimalist approach:

Our basic principle is to query as few data as possible.

Starting with the registration, we only ask for your first / last name.

This does not even have to be your actual name – and will only be used for your display name.

You can change it later at any time.

During the sign-up process, we also ask for a user name and address to restore the user account (for confidentiality purposes, this may be an alias or a disposable email address).

In addition, users are always encouraged to follow a minimalist approach to other data entry points in the application.

No covert game:

We do not use cookies, no browser fingerprinting and do not offer third parties a secret access.

There are no advertisements and no advertisements, and in the more than 17 years that we've run our business, we've never turned our user databases into money.

Local Hosting:

We host all our data locally, complying with the strict Belgian privacy laws.

Only a court order from a Belgian judge may force us to release information.

Third-party trackers:

We filter out third-party trackers in all emails arriving in your inbox.

In addition, we keep an eye on the evolving tactics that aim to track users through email and adjust our protections accordingly.

Protecting your location data:

We will remove the IP address of your device from all headers of outgoing emails.

This largely helps to prevent malicious actors from tracking down their geo-mapped location

Other measures

: In addition, we rely on a number of other measures such as strict in-house data access controls and retention policies, the use of Zero Knowledge Frameworks, etc.
Anonymity of the identity at Mailfence
In terms of online user data, anonymity of identity is important. At Mailfence, we consider several scenarios where anonymity is desired, such as journalists, privacy activists, political dissidents, etc.
Using Mailfence with

Layer-Based

Solutions:

Mailfence

encourages

users to use the

Tor Browser

or

Clearnet

or

I2P

or any other layer-based solution to achieve higher anonymity.

Of course,

using a VPN is

a plus as long as you entrust all your Internet traffic to a single company.

Crypto

currency support

:

Mailfence supports

Bitcoins

,

Litecoins

and Ethereum.

We also plan to expand support to other currencies.

Pseudonym Porting of Data:

This can be done by using any display name while connecting through a layer-based service and paying with a crypto currency.

You can then easily import and share data, for example by using the direct access link (public).

Of course you can also export your data at any time.

Our support for open standard protocols such as SMTP / IMAP / POP3, WebDAV, CardDAV, CalDAV, OpenPGP, etc. makes this all possible.

We do not restrict or lock our users into our application ecosystem.
Schutz der Nutzerdaten bei Mailfence
Der Schutz der Nutzerdaten ist stets unser wichtigstes Anliegen und wir nehmen dies sehr ernst. Nachfolgend einige Aspekte, auf die wir in diesem Zusammenhang hinweisen möchten.
Ende-zu-Ende-Verschlüsselung (E2EE) und digitale Signaturen(DS): Mailfence verwendet Open Source-Bibliotheken, die öffentlich auditiert wurden, um Ende-zu-Ende-Verschlüsselung und digitale Signaturen auf Grundlage von OpenPGP zu bieten. Unser Service arbeitet problemlos in Ihrem Browser und behält eine Zero Knowledge-Umgebung zwischen Ihrem Client (dem Browser) und unseren Servern. Wenn Sie aber Ihren privaten (verschlüsselten) Schlüssel nicht auf unseren Servern speichern möchten oder kein JavaScript-basiertes Front-Ende mögen, steht es Ihnen völlig frei, jeden beliebigen lokalen Client zu nutzen, der OpenPGP (e.g., Thunderbird/Enigmail, …) unterstützen kann, und alle Ihre Schlüsselpaare auf Ihrem Endgerät zu lassen.
Zwei-Faktor-Authentifizierung (TFA): Die Sicherheit Ihres Benutzerkontos ist uns sehr wichtig. Aus diesem Grund ermutigen wir unsere Nutzer, ihre Benutzerkonten zu schützen, indem Sie TFA nutzen. Wenn jemand in den Besitz Ihres Passworts gelangt ( z.B. über Phishing) ist Ihr Benutzerkonto weiter gesichert. Stellen Sie allerdings sicher, dass Sie die Backup Recovery Codes erstellt und sicher gespeichert haben (für den Fall, dass Sie den Zugriff auf Ihre TOTP -App verlieren).
Spam-Schutz: Wir setzen mehrere konventionellen und Inhouse Spam-Abwehrmaßnahmen ein, um Ihr Benutzerkonto vor unsicheren E-Mails zu schützen. Wir planen außerdem, eine dedizierte White- und Blacklisting-Funktion zu veröffentlichen, die es dem Nutzer ermöglicht, die Kontrolle über unerwünschte E-Mails zu behalten.
Erkennen von Malware: Wir verfügen über dedizierte Methoden, um Ihre E-Mails (+ Anhänge), Dokumente und verschiedene andere importierte Unterlagen von Malware und anderen schädlichen Inhalten zu schützen.
Weitere Maßnahmen: Darüber hinaus gibt es weitere Sicherheitsmaßnahmen wie z.B. ein zwingender Aufbau aller Verbindungen zu unseren Servern via Transport Layer Security (SSL/TLS) Verschlüsselung, sowohl für die Web Services(+ PFS, HSTS) als auch den IMAP/POP/SMTP E-Mail Client, etc.
Noch viel mehr
Darüber hinaus gibt es natürlich noch eine Reihe weitere Maßnahmen, die die Sicherheit, Vertraulichkeit und Anonymität Ihres Benutzerkontos schützen. Aus Sicherheitsgründen werden nicht alle veröffentlicht.
Das Erreichen eines soliden Grades an Online-Sicherheit, Vertraulichkeit und Anonymität erfordert ein ganzes Spektrum an Maßnahmen und sieht in Abhängigkeit von Ihren Zielen und Aktivitäten immer anders aus. DerZweck dieses Beitrags ist es, Ihnen dabei zu helfen, zwischen Datensicherheit, Vertraulichkeit und Anonymität zu unterscheiden, so dass Sie je nach Bedrohungsmodell Mailfence beruhigt nutzen können. Lesen Sie unser Bedrohungsmodell, um besser verstehen zu können, wovor Mailfence Sie schützen kann und wovor nicht.
Mailfence ist ein sicherer und vertraulicher E-Mail-Service.
---
Verbreiten Sie die gute Nachricht !