Mailfence launches knowledge base
Mailfence is happy to announce the launch of its support knowledge base. At Mailfence we not only work on providing the world's most secure and private email service but also ensure good customer support. As you can read in the multiple reviews we received, our users often mention our support as being top class.
We want to make sure you have all the support you need at your fingertips. That is why we offer different types of support:
An in-depth personalized online documentation (adapted to your tools, settings, subscription, ….).
The newly launched Knowledge Base.
A premium email and telephone support.
Our Blog for announcements, release notes and tips.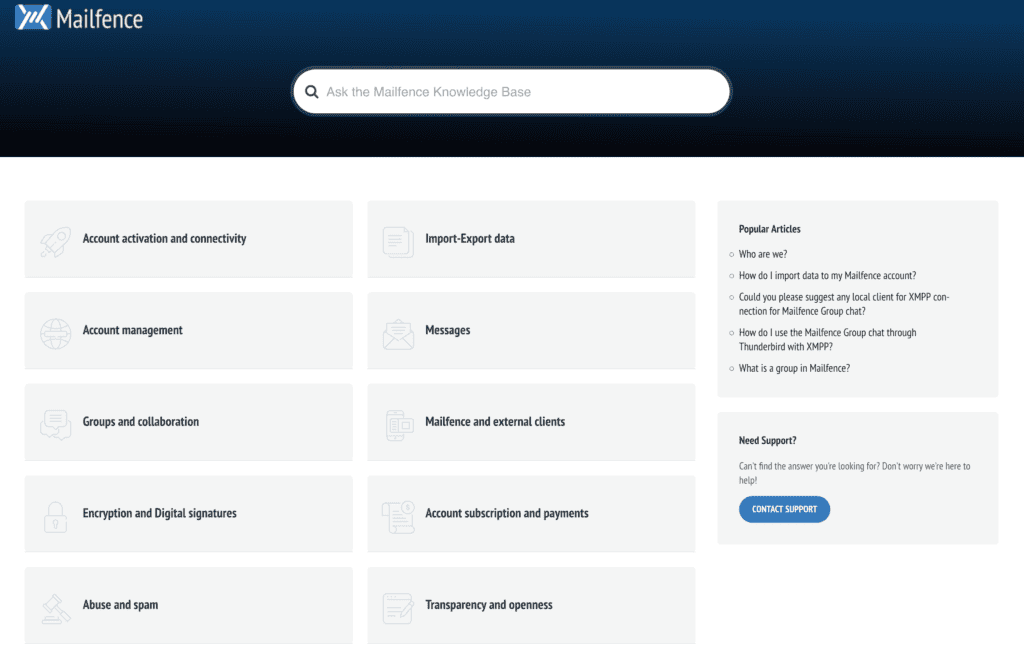 Mailfence Product documentation
We built our product documentation around product functionality and strive to cover all product functionality in this documentation, but no more. We documented every feature even if rarely used. You can access our comprehensive product documentation via the account menu (drop-down) at the top-right of your screen under 'Documentation'.
Mailfence Knowledge Base
For problem solving, external systems or integrations that are not official part of the product or for workarounds and answers to common customer questions, please check our knowledge base (KB).
The KB allows you to browse through tons of detailed articles, which explain our features, provide tips, and help you to troubleshoot any issue you might have. We organized the articles according to themes and tool such as 'Import and export of data', 'Account activation', 'Messages', etc. The search function enables you to easily find any information that you want to look for.
In case you do not find an answer to your question in the product documentation or knowledge base, contact our support team by clicking on the button in the right column. We will help you as soon as possible and update our documentation and Knowledge Base.
You are also able to rate all of the articles within the Knowledge Base, please let us know whether we have done a good job or if we need to do a little more work to ensure you have all the information you need.

If you have any additional questions about the new Mailfence KB or want more information, contact us at our support or via our social handles. Learn more about Mailfence on our press page.
Follow us on twitter/reddit and keep yourself posted at all times.
– Mailfence Team
---
Patrick is the co-founder of Mailfence. He's been a serial entrepreneur and startup investor since 1994 and launched several pioneering internet companies such as Allmansland, IP Netvertising or Express.be. He is a strong believer and advocate of encryption and privacy. You can follow @pdeschutter on Twitter and LinkedIn.