Mailfence Mobile App is Now Live on iOS and Android!
We're thrilled to announce the official launch of the Mailfence app, now available for download on both iOS and Android devices. This marks a significant milestone in our journey to provide you with the ultimate secure email experience.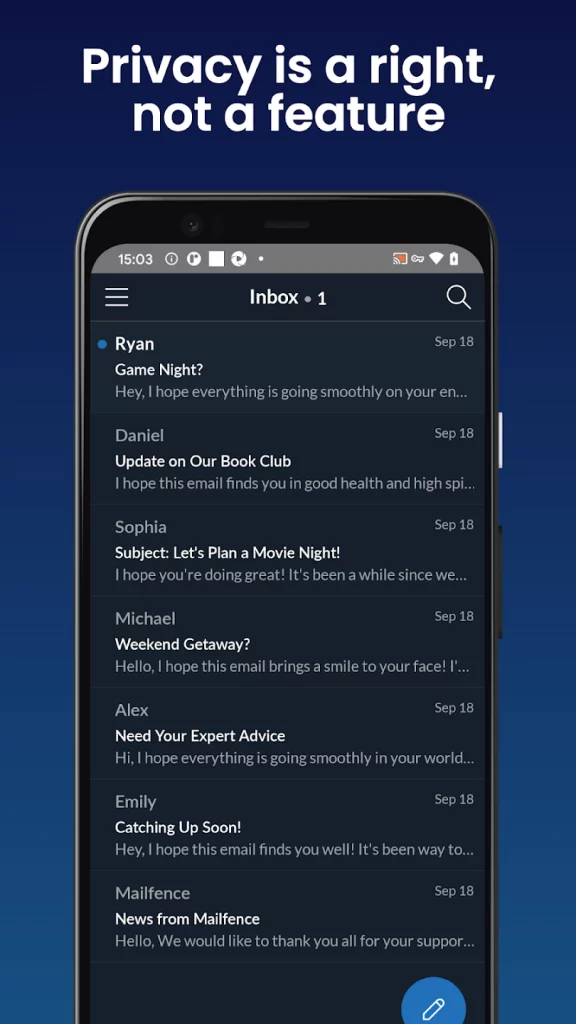 Your Secure and Private Email Solution
At Mailfence, we're all about making your email experience as secure and private as possible. With the new Mailfence app, we're bringing that commitment right to your fingertips, allowing you to access your secure email wherever you go.
Key Features to Enhance Your Email Experience
The Mailfence app, which is in Beta, comes packed with powerful features designed to simplify your email management and enhance your communication.
Here are some of the features:
Intuitive Interface: Our user-friendly interface makes it easy to navigate your inbox and manage your emails efficiently.
Organized Inbox: Stay on top of your emails with smart categorization and tagging features.
Open PGP: Whether you're looking to add digital signatures to your emails or need to decrypt messages, our app has got you covered!
Open Source: Our app is open source, which means it's open for inspection.
Known Limitations of the Mailfence App
While the Mailfence app currently focuses on email functionality, we have big plans for the future. We are committed to continually improving and expanding our app's capabilities. In the pipeline, you can look forward to the integration of Calendar, Contacts, Documents and customizable Settings.
Get Started Today with the Mailfence App
You can download the Mailfence app now:
Download on the App Store (iOS)
Looking for the APK file? Find detailed instructions in our Knowledge Base article!
Don't want to download the app?
Looking for a solution that doesn't require downloading any software onto your device?
With Mailfence, you have options:
Our Progressive Web App (PWA): You can access Mailfence through your browser directly with our PWA.
Standard Protocols: We support standard protocols like ActiveSync Exchange, IMAP, POP, and SMTP. This means you can use Mailfence with the native apps on your smartphone or tablet.
Your Opinion Counts
Are you having issues with the Mailfence mobile app? Do not hesitate to contact our support to let us know!
We will always value your feedback and input as we continue to develop our app.
When contacting us, please mention the following details when experiencing problems with the app:
What kind of device are you using?
Name of your operating system (e.g., iOS, Android) and its version.
What problem are you encountering?
Stay Connected
Stay updated on the latest news, features, and developments by following us on Twitter, Facebook, and LinkedIn.
We're excited to embark on this journey with you, and we can't wait to see how Mailfence enhances your email experience. Thank you for your support, and happy Mailfencing!
Have questions or need assistance? Contact our support team at support@mailfence.com or visit our Knowledge Base for FAQs and resources.
End-to-end encrypted e-mail service that values and respects your privacy without compromising the ease-of-use.
@mailfence @mailfence_fr