Mailfence apoya a la EFF y a la EDRI en la lucha por la libertad electrónica y la privacidad en el E-mail
At Mailfence we are convinced that developing a secure and private e-mail  with the latest technology, with «true» end-to-end encryption, is not enough. The struggle for privacy in e-mail can not be won on its own, but through the development of a global movement of citizens, technology providers, and NGOs working in unison.
Our investments go along with our affirmations
That's why we have pledged to donate 15% of the revenues of our plan «Pro» to support (in English Electronic Frontier Foundation Electronic Frontier Foundation , or EFF) and European (English Derechos Digitales group European Digital Rights or EDRi). These organizations are among the leading NGOs in the world in the defense of civil liberties in the digital world. They are dedicated to defending and watching over important issues such as technology developments , and the freedom of expression and privacy of users . They strive to ensure that the rights and freedoms we take for granted in the physical world are enforced and protected as our use of technology increases.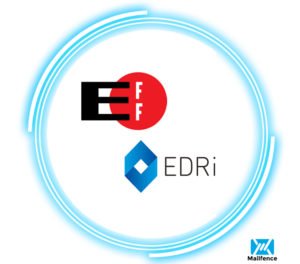 Join the fight for privacy in email, update your plan today
All users of our «Pro» plan automatically contribute to the fight for internet privacy and digital freedom, by paying an annual subscription. If you want to join our fight for privacy on the internet, update your account now, and choose our «Pro» plan that includes the specified donations.
In keeping with our approach to transparency, we have decided to publish the details of the amounts donated.
You can also contribute to the fight for the privacy of the E-mail by registering and updating your account to our «Pro» plan, or directly by making a donation !
Last update: February 2019 (the date corresponds to the last donation)
Next update: end of January 2020
At Mailfence we are firmly convinced that «Privacy is a right, not a functionality», and we do everything we can to protect and promote privacy on the internet.
Follow us on twitter / reddit and stay updated at all times.
– The Mailfence Team
---