Mailfence is hiring a Linux System Engineer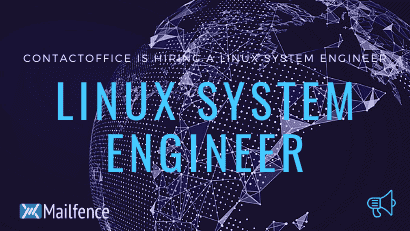 Do you believe privacy is a fundamental human right? Are you tired of the continuous profiling and online surveillance? Join us in our fight for a more secure and private internet! Mailfence, one of the world's most private and secure email solutions, is hiring a highly experienced Linux System Engineer to support its growth. This is a great opportunity for someone who wants a diverse and challenging technical experience while working on tools that matter in people's daily life.
Are you ready to discover a challenging position combining cloud technologies, big data, and high performance?
Here is what we're looking for:
Relevant Work: Experience: 6+ years
Career Level: Experienced
Position: Senior System Engineer
Education Level: Master in sciences (no soft sciences master such as Philosophy, languages, …)
Job Type: Employee (preference)
Job Status: Full Time
Location: Brussels (Watermael-Boitsfort)
Must have advanced experience with Linux systems (Debian, Ubuntu, Redhat…) and scripting (bash)
Deep understanding of the Internet and networking protocols is a must
Monitoring and graphing tool abilities are regarded as important
Experience with low-latency and high-availability MySQL administration would be a great plus
Good practice of configuration management tools (Puppet, Chef, Ansible, etc.) and virtualization tools (Xen, KVM, …) would be appreciated
Experience with cloud operating systems (OpenStack) or service providers (Amazon EC2/S3, etc.) would be a plus
Knowledge of open-source firewalling and high-availability technologies would be a plus
Practice of Java technologies would be a plus
Some remote home work will be possible.
Some day travels to customer's premises might be required (although very rare in practice).
Your tasks as a Linux System Engineer
Installation, maintenance, and monitoring of our server infrastructure
Installation, maintenance, and monitoring of the server infrastructure of our customers
Update of the ContactOffice application on our servers and on the servers of our customers
Update and maintenance of the procedures and documents relative to our system operations
Will gradually take full responsibilities on daily operations, maintenance and monitoring of around 100 Linux systems
Maintenance and monitoring of network and firewall (Netfilter)
Management of log files, log analysis and appropriate actions (bug reporting)
Maintenance of monitoring system (alerts, graphs, analysis)
Participation in definition of system, network and security policy of the company
Training of customers in system and maintenance aspects
Support towards our private label customers of the business-critical locally hosted or externally hosted versions of our application
Work with advanced IT technologies, such as enterprise messaging protocols, high volume storage, and databases
Physical intervention on servers when distant intervention is not possible
Part of an 'On Call' team for night/weekend alerts management
Will take care of the maintenance of the ContactOffice application
Setup of the ContactOffice application as well as fine-tuning setups for best performance
Setup, maintenance, and tuning of side applications (Postfix, SpamAssassin, ClamAV, Nagios, Munin, HAproxy, Tomcat, Java, Java VM ….);
Level3 support requests
What do we offer?
An opportunity to make a difference in the fight for online privacy
Room to grow, personally and professionally
A very solid team to work with
A great balance between life and work with the possibility to work from home
A human company where every person counts
Interested?
Then please submit your application to jobs @ contactoffice dot com and include the following information:
Your resume
A related work-project
Why you'd be a great fit with our team
Your LinkedIn, Twitter and/or Facebook profile URL
Any other profile that might be of interest: GitHub, Bitbucket,…
About ContactOffice
ContactOffice is one of the European pioneers in the field of email messaging and cloud collaboration. The company was founded in 1999 by Belgian internet pioneers Arnaud Huret and Patrick De Schutter. In 2013 ContactOffice launched Mailfence (https://mailfence.com) one of the world's leading secure and private email solutions. We believe that online privacy is a fundamental human right.