Mailfence is Hiring a Front-end Developer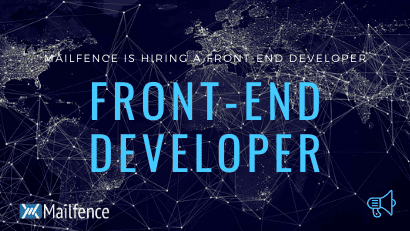 Do you believe privacy is a fundamental human right? Are you tired of the continuous profiling and online surveillance? Then, join us in our fight for a more secure and private internet! Mailfence is one of the world's most private and secure email solutions. We are hiring an experienced Front-end developer who enjoys creating and building the user experience of products as well as the under-the-hood components that make it all work. This is a great opportunity for someone who is looking for a challenging technical experience that also embraces the human side of making tools that people depend on every day.
Job Details
Job Status: Full-time
Position: Front-end developer
Relevant Work : 6+ years
Job Type: Employee/Independent
Education Level: Bachelor in Computer science
Location: Brussels (Boitsfort)
Technologies
We use a combination of GWT and VueJS. Our front-end is fully responsive, which means that you need a strong background in all the technologies that contribute to create a great user experience both on desktop and mobile. Having some knowledge in cryptography is also a big plus. Java being our main development language, you will need to feel comfortable with this language.
Your tasks as a Front-end Developer
Maintain the client side of our software application in collaboration with the R&D manager of our company.
Develop specific feature requests for our customers.
Maintain a professional collaboration with the team responsible for quality support in order to improve the existing application and debug new releases.
Your profile
Programming experience in Java.
Experience: At least 6 to 7 years of overall professional experience.
3+ Years of experience with one of the Big Three front-end frameworks (Angular, React or VueJS).
Experience in developing web applications (GWT, JavaScript, CSS3, HTML5, Git/Github, Angular, React, VueJS).
Experience with Service Management Tools to process and document incidents and change requests.
Languages: French and English.
Good writing and communication skills.
What do we offer?
An opportunity to make a difference in the fight for online privacy
Room to grow, personally and professionally
A very solid team to work with
A great balance between life and work with possibility to work from home
A human company where every person counts
About ContactOffice
ContactOffice is one of the European pioneers in the field of email messaging and cloud collaboration. The company was founded in 1999 by Belgian internet pioneers Arnaud Huret and Patrick De Schutter. In 2016 ContactOffice launched Mailfence (https://mailfence.com) one of the world's leading secure and private email solutions. We believe that online privacy is a fundamental human right.
Interested? Just drop us an email at jobs@contactoffice.com