Mailfence accepts Litecoin as cryptocurrency payments
We are happy to announce that
Mailfence
accepts Litecoin payments.
Litecoins
are preferred to Bitcoins because of their low transaction costs and rapid transaction confirmations. As one of the leading
secure
 and 
private
 email providers, we are happy to extend our support of crypto-currency. We do continue our
support for Bitcoins.
 Just felt like giving you more options.
Mailfence accepts Litecoin payments
Users can use Litecoins for payment of both premium plans (Entry or Pro) and/or for donations in order to support us in developing the most secure and private email solution. You can also add extra credit in your account for SMS or Fax sending, with Litecoins. In line with Mailfence philosophy of giving full control to the user, we also offer many other payment options such as Bitcoin, credit card, bank transfer or Paypal .
Discover our premium plans:
Start with the free plan. If you love it, take one of the premium plans. The Entry plan is at 3,5 EUR per month, the Pro plan at 9,5 EUR per month.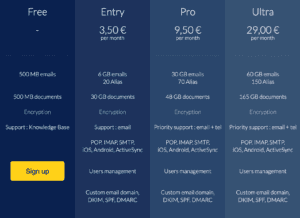 How to pay with Litecoin:
Interested in discovering one of our premium plans? Log into your account. Click on your name at the top right of the screen and click on 'Subscriptions'. You'll discover the different plans. Select the subscription of your choice and click on the Litecoin icon at the bottom right. Click on Next and you'll discover the following screen with Litecoin payment instructions.

Follow us on twitter/reddit and keep yourself posted at all times.
– Mailfence Team
Patrick is the co-founder of Mailfence. He's been a serial entrepreneur and startup investor since 1994 and launched several pioneering internet companies such as Allmansland, IP Netvertising or Express.be. He is a strong believer and advocate of encryption and privacy. You can follow @pdeschutter on Twitter and LinkedIn.